Even Older F&M News:
Winter Update 1997-98 - IT'S FOLK & FUZZ BABY!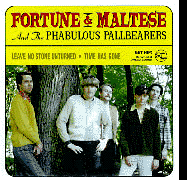 Fortune & Maltese announce the release of two new boss singles - LEAVE NO STONE UNTURNED b/w TIME HAS GONE (Get Hip Records [USA], GH-212) and BEWITCHED b/w DON'T WANNA CRY (Larsen Records [France], LZ-039).
STONE and TIME HAS GONE are both kinda in the folk bag so they're like way IN there. Click on the record (left) for more blab.
BEWITCHED is a fast vocal fuzzer Davie Allan style co-penned by Maltese and Mr. Michael Hurtt of the Royal Pendletons. Get on the horn with your record shop or drop a line this-a-way and we'll do what we can to get ya a copy!
And check out a video clip for LEAVE NO STONE UNTURNED on MTV's "Out From The Underground" web site (www.mtv.com). Go to ARCHIVE (in POP TARTZ) and there you'll find us!
Or, click here for a sample of stills and partial Video Download!
In addition to a brand new full-length F&M release, 1998 brings the domestic (US) CD reissue by Get Hip of Fortune & Maltese's self-titled Screaming Apple debut LP - with 2 bonus tracks included! Scheduled May 26.
And look for a new F&M 4-song EP (from Get Hip's new Keystone subsidiary label) featuring their long-awaited FIDDLED WHILE ROME BURNED.

On the compilation front, this year also brings F&M's contribution to a new MuSick Records Ventures tribute LP. Their track, THE TWOMP, spotlights a rare Ventures vocal bender. Check out the F&M Discography for current release info.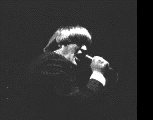 For More information write :
FORTUNE & MALTESE
Box 61, Kalamazoo, Mich.
49005-0061 USA