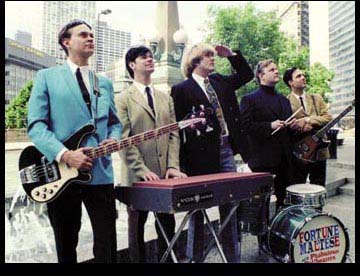 "F&M hit a big bullseye..." hails Cub Koda in Goldmine.
"F&M are the ghosts of a '60s past...Cool and Groovy!" blabs Alternative Press.
"You might mistake 'em for the early Beatles" boasts MTV.
"Fortune & Maltese have made it possible to make [their Konquer Kampus LP] a number one hit in all west coast radio stations" spews Spain's Penthouse.
F&M began their musical career years back as mere song and dance men, spending their spare change on popcorn and iced-tea. Now, with three international long-players and several super 7-inchers under their belt, the "boys who make all the noise" continue to entrance the electric-minded with their melodic sting of the organ and string:
"Their live shows are legendary. Their records a gas...Bands this great come around very rarely, don't miss out on Fortune & Maltese..." - Bad Trip #10
They soar the heights of that 409 sound and effortlessly ride the jet stream of Stomp...
Make the scene with Fortune & Maltese and enjoy tomorrow's sound today!